Welcome to Mena Street Rods. This site is a place for those who enjoy building, owning, or just seeing and reading about street rods, hot rods, and restoration of older cars and trucks. We have a large collection of street rod pictures and hot rod pictures just browse to the Wilhelmina Rod Run link or the Open Car Show link to find street rod pics, hot rod pics, and virtual tours of the shows. We have added photos from this year's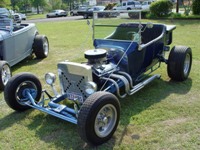 Open Car Show held in Mena. The Street Rod pictures from the 2004 Wilhelminia Rod Run held at Queen Wilhelmina State Park are now on the site also. We have also added a new area on the site for you to show off your cars. Just send us a few pictures and some information on your car and we will add it to our Virtual Rod Run page.
We also have a classified section as a place for you to list your street rod for sale, your hot rod for sale, your street rod projects for sale, street rods wanted, hot rods wanted, car parts, tools for working on your projects, and a misc. category.
Be sure and come back often as we are working on the site all the time.
We have a new short story on the site by Chuck Klein. Last Knight is a set-in-the-fifties, historically and technically correct, hot rod intensive story. Chuck is also the author of several books and manuals on law enforcement, firearms, and other books about hot rods.
We are looking for other people who would like to submit articles and pictures about their street rod projects or specific areas of interest concerning street rods or auto restoration. Send us an e-mail at Mena Street Rods Articles if you would like to have an article considered. Any article submitted must be original content and belong to the person submitting it. MenaStreetRods.com will not be responsible for content of articles or stories submitted to us for publication.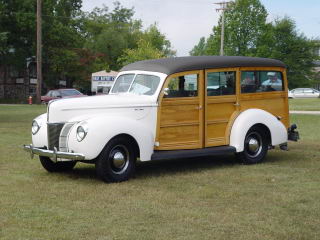 Mena Arkansas is well known for it's association with the automobile restoration, customization, and racing industry both professional and hobbyist. Part of the mission of this web site is to help make these local businesses better known to those who may not be aware of them and where they are located. If you are "hooked" on cars, you may want to plan a vacation around the Mena, Arkansas area and see the beauty of the Ouachita Mountains and visit some of these businesses. Be sure and visit the historic Studebaker Building when you are in town. You can follow this link for a virtual tour of the building which is on the National Registry of Historic places and maybe the only building left that was designed for Studebaker by Frank Lloyd Wright. Right next door is the restored ESSO station loaded with memorabilia. Click here for a tour of the ESSO Station. The buildings are open for actual tours on special occasions. The Wilhelmina Rod Run, which is held at Queen Wilhelmina State Park on top of Rich Mountain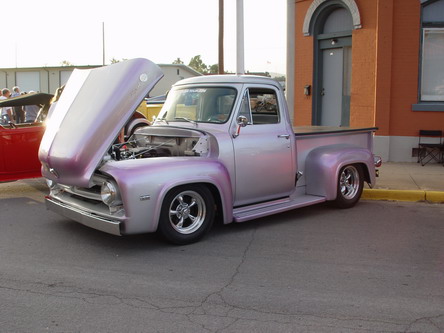 just west of Mena, is always on the calendar of anyone who has ever attended. You should put it on your calendar to attend if you haven't had the opportunity to come before. Make your reservations early though the rooms go fast. You can go to this page on the official web site for Mena, Arkansas, GoMenaArkansas.com, for information on accommodations. The Wilhelmina Rod Run will be held for the 32th time this year.
There is another new comer on the car show scene in Mena also. The "Crusin' the Ouachita" open car show will be held again in June this year, it's open to cars, trucks, and motorcycles. See our Car Show page for additional information or go to amperformance.com/show
One of the best known local automobile related businesses is Brodix, Inc. with dealers and customers all around the globe. Brodix aluminum heads, intake manifolds, and aluminum engine blocks are used by top race teams all around the world.
Brodix was created after J.V. Brotherton (the Bro) married Paula Dix whose family owned the Dix Foundry (the Dix) in Mena Arkansas. J.V.'s hobby of racing automobiles led him to start making heads for the racing industry. After many attempts to create a head that met his expectations he was finally successful in the early 70's and as they say the rest was history.
The following is a quote from J.V. Brotherton
"BRODIX has enjoyed many successes over the years in every form of auto racing. Many, many records, championships, and titles have been won with BRODIX products. With the blend of old and new ideas, the future looks bright. Continuous research and development is a way of life at BRODIX." J.V. Brotherton, President of Brodix, Inc.
Another well known business among street rod and performance enthusiasts is Street & Performance. They manufacture and distribute a wide range of performance and aesthetic items used by some of the top custom builders of street rods across the country as well as do it yourself builders. Their parts are regularly featured in several magazines. They supplied an engine that was used in restoring a '56 Chevy on American Hot Rod on the Discovery Channel. Street and Performance is one of the primary sponsors of the Rod Run each year.
American Performance located in Mena sells a full line of Classic Car and Performance related apparel. They are the primary sponsor of the Mena Arkansas Open Car Show.
There are several other small shops around the Mena area producing various aftermarket parts, for restoration or customization.
If you have a business related to the restoration, customization, or modification of automobiles or motorcycles and would like to be mentioned here or have a paid ad on the page please contact me at turnerje@menastreetrods.com
Check out the link to the Wilhelmina Rod Run which is held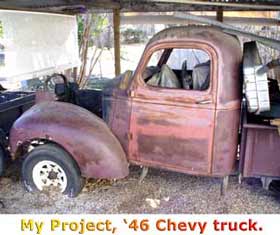 each year on Rich Mountain at the Queen Wilhelmina State Park with some activities in downtown Mena Arkansas. Here you will find information for both the registered participants and those of you who just want to come see the street rods at the Mena Rod Run. Please check back often for updated information. Please let me know if you have information that pertains to the Wilhelmina Rod Run or other events in the area. There are numerous pictures posted under the photo link on that page and virtual tours of the Wilhelmina Rod Run. The pictures and 360º virtual tours can take a while to download but are well worth the wait.
There are also photos and 360 deg. virtual tours of the Open Car Show.
Go to the Mena link and have a look around at some of the local attractions and information.
Interested in Mena as a location for a show about a particular interest or want to help sponsor a show in the Mena area? Mena is a wonderful location for car shows or just a visit of the area and the local auto related businesses. Contact us and we will help with the local government contacts in setting up your show.
Be one of the first to start a topic on the Mena Street Rods Forum.
We are going to strive to have all of the information we can gather pertaining to local and regional events pertaining to Street Rods and Classic Cars.
We will also be adding a site pertaining to street rod trucks. The fascination with the pickup as a street truck, street rod truck, or hot rod truck is one of the faster growing segments of this hobby/business.